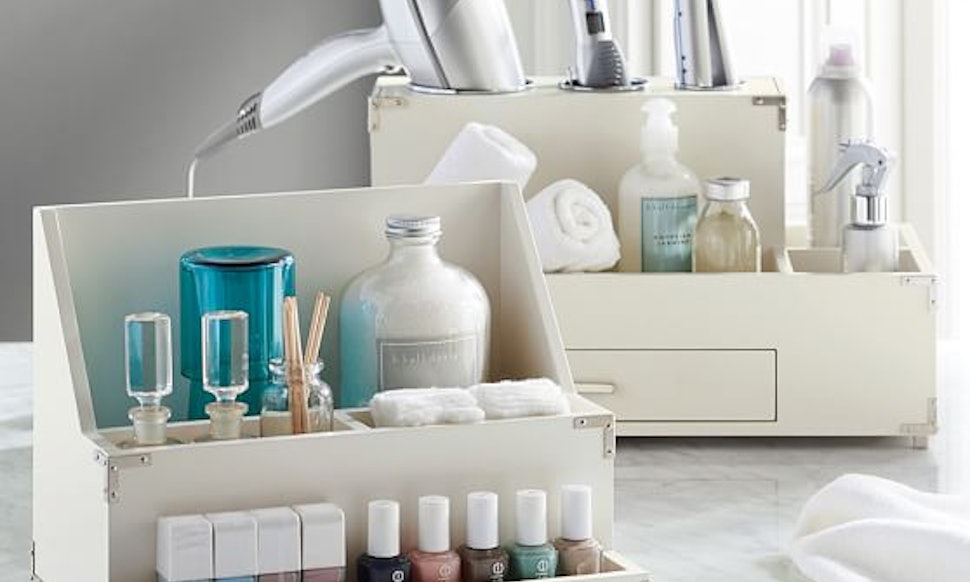 Get ready to ditch those plastic bins, because it's time to upgrade your makeup storage. Whether you have a few basic essentials or a plethora of makeup goodies, there are several ways to keep your collection organized, while still looking spectacular. Don't rely on those clunky boxes and bins to hold your makeup. Upgrade to beautiful, chic looking organizers for all of your beauty storage needs. It honestly will change the entire way you see your makeup collection.
By organizing your collection, you can get out the door faster and streamline your morning routine more than you'd ever believe. No more digging around for the perfect lipgloss or eyeshadow through heaps of old products and brushes. It's easily displayed right in front of you. These clever organizers keep everything on display, while also being out of the way. It's an easy way to get declutter your everyday spaces. Imagine all the things you can do with a clutter-free desk or bathroom counter. You can finally get that new bathroom set you've been eyeing. All of the possibilities are endless. If you're looking to update your makeup storage, here are a few of my favorite organizers that are perfect for the job.
1. Get Ready Stand
If you're short on bathroom space, contain all of your skincare and makeup to this handy stand. It even comes with a magnified mirror!
2. Palette Organizer
Keep those pesky palettes in line by organizing them in a file accordion. It keeps your palettes organized, and looks great on your vanity.
3. Over The Door Mirror Rack
No more vanity clutter. Keep your beauty routine hanging on the back of your door instead. It keeps everything in an easy to reach location that is out of the way for your traditional work spaces. Just be careful about slamming the door.