If you have ever tried to organize your home you may know that it can get really expensive! One trip to the container store may take your whole paycheck. But if you are determined to get organized, there are simple ways you can do it without spending any money!  With these DIY hacks, you can organize your home with items you throw out in the trash each week! Keep reading to find 10 Genius DIY Ways To Organize With Recycled Items.
UTENSIL HOLDER
Don't go waste your money on a utensil holder when you can make one yourself with your trash! Home-Dzine has a brilliant tutorial on how to create your own utensil holder using soup cans, paint and wood! Check out her tutorial here!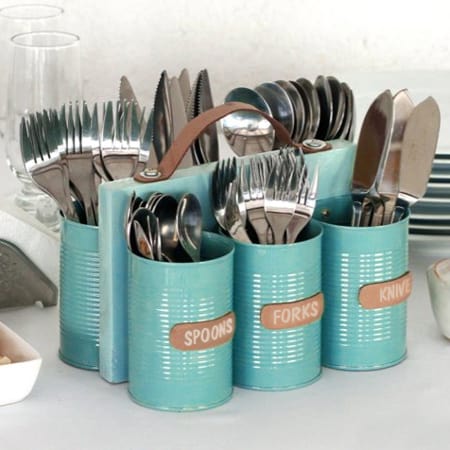 DIY STORAGE BASKET
If you have ever shopped for storage baskets, you know that they can be expensive. Especially if you need more than one! But don't let that discourage you from getting organized! You can create your own storage boxes using cardboard boxes, twine, and fabric. Erin from Elizabeth Joan Designs created her own custom liner but you can also use a pillowcase! You can find boxes at any warehouse store or just use the boxes you get from Amazon!